The Great Depression affected many of the families who summered in the region. At first, most of the wealthy families continued to come to "take the salt air" on the shores of the St. Lawrence. After all, these vacations were more affordable than going to Europe! As the economic crisis raged on, however, some families were obliged to sell their summer homes. They would return, perhaps staying at a hotel like other tourists.
Social changes also led to a gradual decline in the tradition of summer residency. Vacationing became more accessible as working conditions for labourers improved and therefore the idea became widespread. Wealthy summering families had sought havens of peace among friends and social equals where their children could play in safety. Yet, now the many tourists and automobile traffic robbed the seaside resorts of this tranquility.
Nonetheless, several families still own summer homes in eastern Quebec. They inherited a rich legacy: Their homes' architecture, interior lay-out, decor and furniture have been well preserved. Upkeep may be more difficult, however, as current owners do not have their predecessors' means to maintain the elaborate gardens, tennis courts, golf clubhouses and churches built by summering families over a century ago.
Local towns have adopted some of this heritage. For example, they have ensured that golf clubs remain active or winterized some houses for year-round use.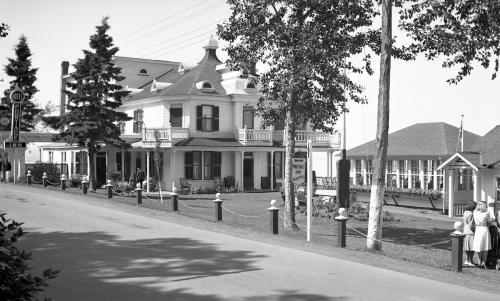 Image Gallery
Click to enlarge the images and learn more