To fully take advantage of the summer holidays, it was important to foresee and forestall any difficulties. This task often began the previous winter, often right after New Year's. Preparing for the summer holiday was simpler for tourists, but they had to reserve early if they wanted a hotel room! Hoteliers often wrote to their regular guests to ask if they would be returning in the coming season. Slow starters would seek out the best deals advertised in the newspapers starting in June. Would their budget allow for a prestigious hotel with a grand ballroom?
Some vacationers shared an inherited family home with relatives and would decide in advance when each family had the place to themselves. Repairs or additions would start as soon as their owners headed back to the city, and they would closely follow the progress over the winter months by correspondence. When the snow melted, plans to open the houses were also carried out by mail. Who would open the shutters, check the plumbing and rid the rooms of the damp by lighting the wood stove? 
As spring came to an end, the servants of the wealthier families left to prepare the summer homes for their "masters'" seasonal arrival. It was time for spring cleaning, airing the linen and turning the garden plots. A good part of the family's luggage was sent ahead by train or steamboat. Clothing for sports, leisure and formal occasions was packed in large trunks, along with other items needed for the trip (dishes and silverware, etc.). Everything was ready for the summer migration!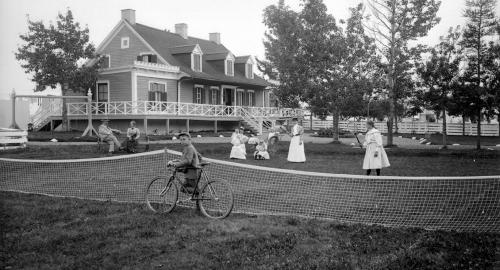 Image Gallery
Click to enlarge the images and learn more