The 1870s were the golden age of eastern Quebec's sea-bathing resorts. French-language newspapers featured articles eloquently written by the likes of Arthur Buies and, in English-speaking Canada and the United States, similar reviews were seen in the Montreal Gazette and Harper's New Monthly Magazine, among other publications.
Early 20th-century tourist guides praised the comfortable hotels and the modern transportation network, emphasizing the beauty of the landscape, the rich history of the region and the excellence of local craftsmen. Cruise companies chose talented authors to write their visually pleasing guides that often displayed stereotypical images of habitants. Today, these guidebooks are collector's items!
Original or photocopied articles, personal diaries and memoirs can be found in the some of the old summer homes. Mostly unpublished, this material is a precious legacy that the holiday families have handed down from one generation to the next.
This memory is also transmitted more publicly. Some summer residents have written and published works enriching and chronicling the history of their summer communities. For example, Alice Sharples Baldwin wrote about Métis and Lewis Evans about Tadoussac. This tradition still thrives. In 2015, Judy Carmack Bross wrote a book about the summer residents in the golden age of La Malbaie.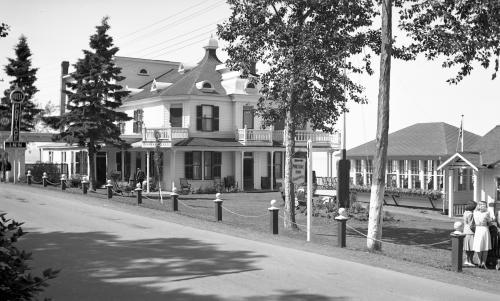 Image Gallery
Click to enlarge the images and learn more