Organizing the transportation of people and goods was an overriding concern for politicians, tradespeople and voters from the 1850s through the1880s. It was actually a major issue for remote towns and villages, as the improvement of transportation networks put an end to their isolation and favoured business, particularly in raw materials, such as lumber and agricultural produce.
The government of United Canada began subsidizing the construction of deep-water wharves in the early 1850s. Henceforth, steamers, including cruise boats, could dock safely regardless of the tide. On the river's southern shore, the railway reached Rivière-du-Loup in 1860 and new sections were inaugurated in the towns along the St. Lawrence each year. While the Intercolonial Railway extended their line eastward, the Temiscouata Railway dipped to the south, crossing through a promising area for the forestry industry, not to mention golden opportunities for hunting and fishing!
River towns battled fiercely to get a deep-water wharf or a railway station! Regardless of who won, vacationers always reaped its benefits, as their route eastward became easier, faster and more comfortable with every passing year.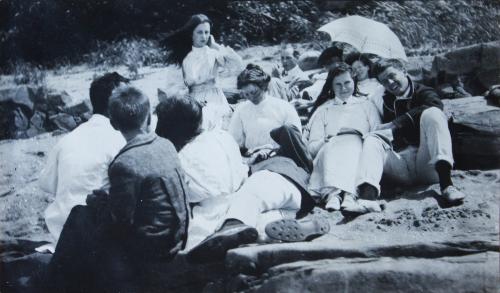 Image Gallery
Click to enlarge the images and learn more