The first pictorial representations of the riverbanks were ordered by British authorities. Painted by military-trained artists and used for strategic purposes, the paintings showed the landscape and its topography from a ship or shoreline view. These watercolours were greatly coveted by fellow Brits by the end of the 18th century.  
By the 19th century, paintings emphasized instead the picturesque nature of the St. Lawrence. They romantically depicted people overshadowed by the immensity of the landscape, a village and its church nestled in a deep valley or local habitants who were perhaps poor, but happy and free. Some of these works hung in the homes and offices of the Canadian elite, while others illustrated newspapers or travel guides.
Other paintings were more intimate. These were done by the villagers themselves, who sometimes had studied under well-known artists. Their scenes might show the veranda of the family villa, a summer house and its garden, children, pleasure boats or even the day's catch of fish. When cameras became small enough for anyone to capture daily scenes, photography soon joined drawing and painting in depicting eastern Quebec.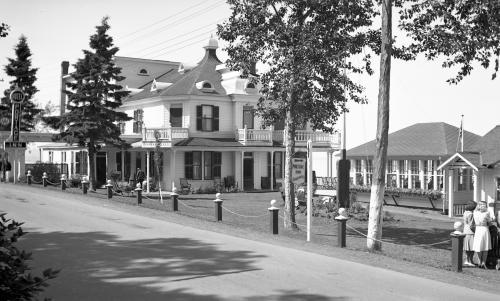 Image Gallery
Click to enlarge the images and learn more