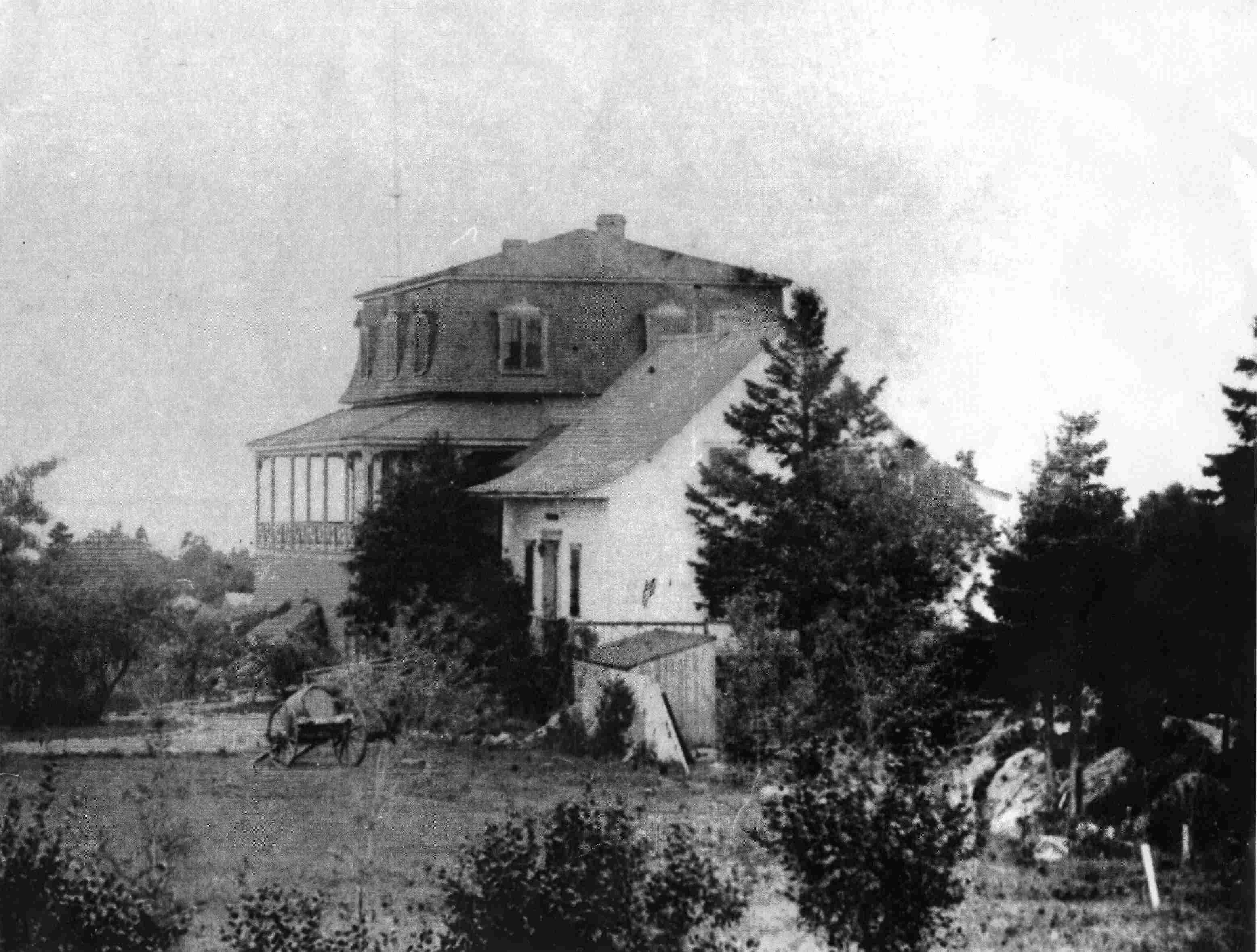 © Canadian Heritage of Quebec.
Conservative John Alexander Macdonald began going to Saint-Patrice (Rivière-du-Loup) in the summer of 1870, possibly on the recommendation of his doctor. He was then the Prime Minister of Canada. We know that he rented this house for several years before buying it in 1882 and then expanding it by adding a wing to the west (shown on the left of this photograph). He frequented his summer residence, called Les Rochers, until several months before his death in 1890.  
While Macdonald was removed from community life in Saint-Patrice, his wife, Susan Agnes Bernard, actively took part. We should say, however, that Macdonald's political life was never easy, even in summer. Many deputies and friends from the Conservative Party who holidayed in the area as summer people or tourists heatedly discussed the topics of the day, such as the railroad and the colonization of the West.
Saint-Patrice was central to at least two events that marked Canadian history. The first occurred in 1873, when the Pacific Scandal erupted. A journalist updated a telegram incriminating Macdonald in the illegal funding of the Conservative Party's electoral campaign. The latter was generously funded by major railroad investors, in exchange for major contracts. This scandal implicated not just Macdonald, but also George-Étienne Cartier and Sir Hugh Allan, who owned a villa in Cacouna. The Prime Minister took refuge in Saint-Patrice and waited for the dust to settle.
The second event took place in 1885. It was supposedly in Saint-Patrice that, after long deliberation, Macdonald agreed to hang Louis Riel, a Métis people's leader. The residents of Saint-Patrice and Rivière-du-Loup seem to have forgiven him many very controversial decisions, particularly those affecting the French-speaking communities in the Prairies, since residents always spoke proudly of his presence in Saint-Patrice.
The Les Rochers house never stopped welcoming those looking for rest. The non-profit organization Canadian Heritage of Quebec has run a B&B there since 1996.