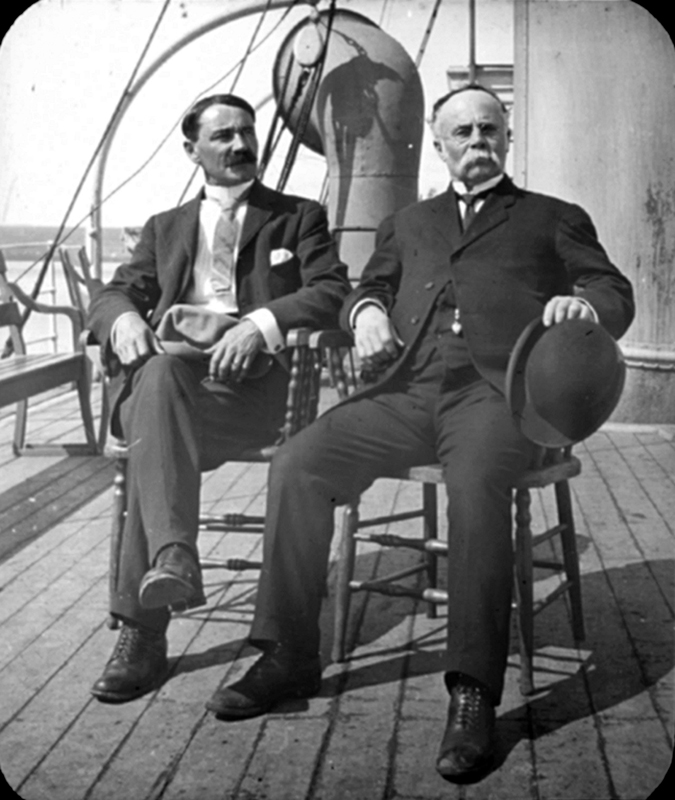 © Musée du Bas-Saint-Laurent, Paul-Émile Martin coll., m02044.
Being a Liberal meant adopting a way of thinking about and seeing politics. In the early 20th century, both the provincial and federal deputies for the riding of Témiscouata were Liberals. Charles-A. Gauvreau was an author, notary and Liberal deputy for this riding in Ottawa, almost without interruption from 1900 to 1924. Napoléon Dion was a politician for the city of Rivière-du-Loup (formerly Fraserville) and the province (Liberal deputy for the riding of Témiscouata) up until his death in 1919.
This photo illustrates how well these two men got along, as they saw each other often over the summer season. It was probably taken when the steamer stopped on the wharf in Rivière-du-Loup. We see that, as early as the 20th century, cruise steamers were going further afield, while a trip up the Saguenay was generally the last stop in eastern Quebec.